making sure the board doesn't get bored
overview
Client: Swargo Events (acting on behalf of an educational board)
Event: Virtual Board Meeting
Participants: 30 (located throughout the US and internationally)
Timeline (concept to delivery): 2 Weeks
event background
For several years, Steven Wargo's event company, Swargo Events, has helped a 30-member educational board plan and execute its quarterly corporate board meetings. Since much of the board's actual work is done through subcommittees, the meetings are primarily focused on team building and vision alignment – both very difficult things to achieve in a virtual event.
client's perspective
"As event planners we would normally oversee the entire arc of an event. Now we are all playing the game of let's find new things we can do." Says Wargo. In a virtual world, it's critical to have something tangible to connect people to events.  The head of the board had a couple of specific objectives for this virtual event, and we had to help identify physical items that would support those objectives and be practical for shipping in a relatively compact package."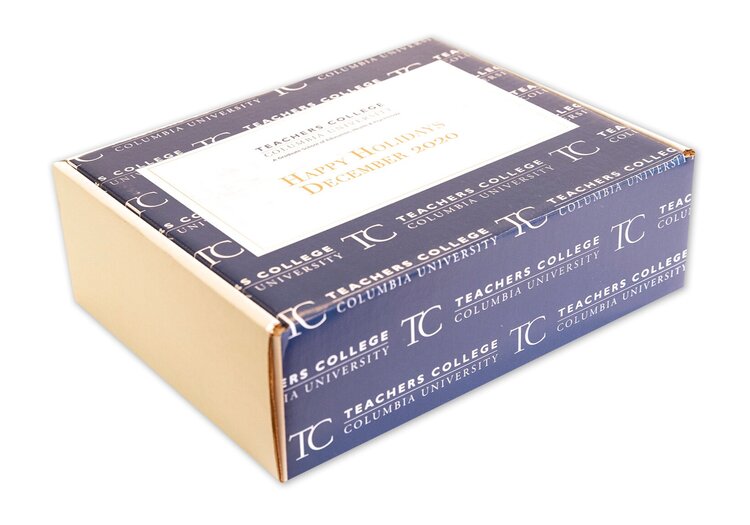 challenges and solutions
1 Printing. With only 2 weeks to assemble the boxes, it was not practical to print on the actual boxes. Symmetry suggested an adhesive vinyl wrap, which could be printed and applied with less lead time.
2 Sourcing. The comparatively short lead time also meant that, wherever possible, items needed to be purchased and picked up locally – near Symmetry's assembly facility. Symmetry helped identify local suppliers for the champagne included in the box and even bought flip charts at the local Target store.
3 Supplier management. The champagne order from a local vendor encountered a hiccup when they misplaced the client's billing information. To keep the project moving on time, Symmetry's Richard Cancel advanced the funds and picked up the items personally.
4 Regulations. Fairly strict rules govern shipping alcoholic beverages across state lines and internationally. Symmetry had those rules at the ready and suggested substitutions for the champagne where needed.
5 Delivery. About three hours prior to event, the head of the board had not yet received the box. She had relocated to her second home because of COVID and had forgotten to change her address on the fulfillment list. Symmetry dispatched a driver, who delivered in the nick of time.
project timeline
Day 1:
Client and Symmetry have kickoff meeting to discuss project,
timeline, strategy and logistics
Day 3:
• Client submits artwork for box
• Symmetry retrieves branded items and other contents from client
• Client and Symmetry review inventory and note short quantities
Day 4:
• Symmetry prints and applies box wraps
• Symmetry picks up locally-sourced items, including champagne
Day 5:
• Symmetry assembles prototype box for client approval
• Client submits final shipping list, including recipient customization options
Day 6:
• Symmetry sources missing item from local Target store
• Symmetry completes assembling boxes
Day 7:
Symmetry delivers boxes to appropriate couriers and schedules delivery
Day 11:
Symmetry troubleshoots and corrects missing deliveries
the symmetry connection
"I met Symmetry's Sharon Kleinberg through Ax3 Studios' Good Times Happy Hour online networking group.  Boxes by Symmetry product was something I hadn't seen with other vendors.  They would custom print the box, so that it really looked like something and then curate the entire process, even sourcing some items.   By hiring Symmetry, we weren't just buying product for our client; we were also getting a logistical partner who could help fill in all the gaps and ensure that we could match our standard for in person events in this new world of virtual events."
symmetry perspective
"Since we had a short timeline, we took it upon ourselves to do more of the sourcing," says Symmetry's Richard Cancel, "It was a no-brainer for us to identify local vendors and pick things up when possible so we had more control over the process."  Kleinberg adds, "The client was always on point, which made this much easier for us.  We had the information we needed and they responded quickly, so we could get the job done."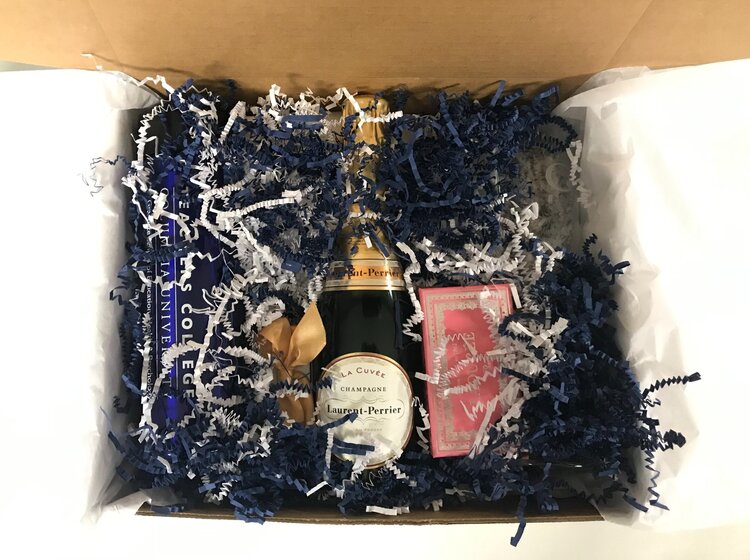 the last word
"As an event planner, you are only as good as your vendors and the people you surround yourself with," notes Wargo, "Just like us, Symmetry has the flexibility and willingness to get the job done; they do what it takes.  The client was crazy about the boxes and we are starting to plan for the next meeting."